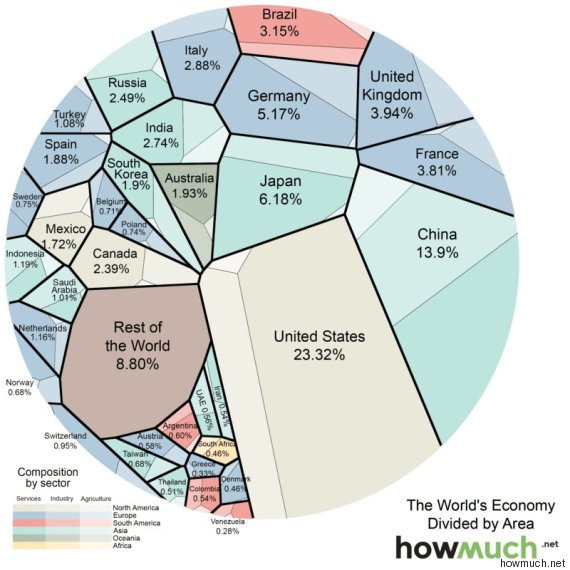 Le site Howmuch.net a publié une carte du monde mettant en valeur les diférents pays selon leurs valeurs dans l'économie mondiale et non selon leurs supérficies.
Un graphique original a été établi qui permet de visualiser de manière claire le poids de chaque pays comparé aux autres sur la base de son Produit intérieur Brut (PIB). Les États Unis s'accaparent à eux seuls près d'un quart de l'économie mondiale avec un taux de 23,32% et un PIB qui dépasse les 17 billions de dollars.
Ils sont suivis loin derrière par la Chine avec 13,9% de l'économie mondiale puis le Japon, l'Allemagne, le Royaume Uni, la France et le Brésil avec des pourcentages respectifs 6,18%, 5,17%, 3,94%, 3,81% et 3,15%.
Ces 7 pays énumérés ci dessus représentent à eux seuls près de 60% de l'économie globale de la planète malgré les énormes écarts qui les différencient. L'économie de ces pays repose essentiellement sur le secteur des services qui dans le cas de États-Unis couvre 79,9% du PIB, suivi de l'industrie puis de l'agriculture.
Dans le graphique établi par Howmuch.net d'autres pays sont représentés mais pas tous. Le pays présent sur le graphique avec le taux le plus faible est le Venezuela avec seulement 0,28% de l'économie mondiale alors que son PIB s'élève à 509,9 milliards de dollars selon la Banque Mondiale.
Ceux qui ont un PIB en dessous de 509,9 milliards de dollars sont tous compris dans une même case appelée "Rest of the World" (reste du monde) qui englobe de nombreux pays mais ne représente que 8,8% de l'économie du globe. La Tunisie fait partie de ce lot avec un PIB en-dessous des 50 milliards de dollars.